Secure solutions for brand protection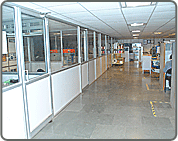 Alpha Lasertek was founded by, Gurkiran Dhillon, our present Managing Director in 1991. Our focus was to develop the most effective overt technology to help Indian consumer identify the fake products. We are one of the most trusted anti counterfeit hologram manufactures in India. After studying various print based and optical technologies we found Holography as the key technology. Our first project was with Bausch & Lomb the makers of famous Ray-Ban range of Sunglasses. Despite numerous challenges like unavailability of quality raw material in India, 130% import duty and missing critical converting technology we delivered on this project through innovating the manufacturing process and sourcing basic raw material from South Korea. The project was a huge success for Ray-Ban and for us.
In these 19 years, we have made over 10 Billion anti counterfeit holograms protecting over 1000 brands and government markings in 48 countries. We are a focused company producing anti-counterfeit hologram manufacture markings for brand security. We retain our belief in diffraction holography as a key technology. We use non diffraction grating techniques and security inks for interactive purposes. We use laser etching and thermal deposition for track and trace of holograms. We use UV based flexographic printing if hologram needs to be applied on printing labels.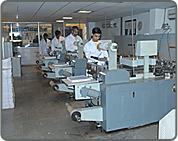 ALPHA LASERTEK INDIA LLP
We envisage the future for writing even smaller and controlled fringes that will generate higher security holograms with more viewing angle. Though covert markings are important for certain projects but for the consumer at large it is the overt markings which holds more promise. We do not think that any print based technology as effective anti-counterfeit hologram markings because of development in scanning and desktop printing capability. We deeply believe in development of material science on which holography can be done as very effective tool in anti-counterfeit hologram marking generation. This is the area where our Research & Development is focused on.
We are conveniently located in Greater Noida, probably India's most planned city. It is 52 kilometers from New Delhi Airport. All our manufacturing, administration and R&D operations are under one roof.